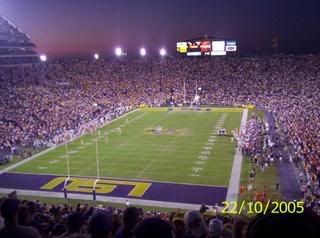 I write this to you all as I sit here sipping my morning smoothie out of my
AUBURN
cup! Oh, how it pains me to write positivly about a rival! But I want all you non-southerners to see all that the SEC (South Eastern Conference) has to offer when it comes to tradition and football. We southern girls love our football! So, while I have muzzled my pride, let me tell you about this rambunctious and fun school nestled into the heart of Louisiana.
Welcome to
Death Valley
, as Tiger Stadium is known to all. This is one one the largest college football stadiums as well as one of the loudest. Fans come from all over Louisiana on gameday in order to cheer their Tigers on to victory.
Located in Baton Rouge, Louisiana, the school was once located in Pineville, Loiusiana and led by Col. William T. Sherman! It was later relocated to Baton Rouge.
The school colors are purple and gold and have arguably been said to have been chosen because these are also Mardi Gras colors. Whatever the reason, fans come out in droves on gameday decked in the school colors to fill the 92, 400 football stadium and celebrate like it is Mardi Gras.
Mike the Tiger is the school mascot, please do not mistake for Tony the Tiger- he belongs to Kellog's...Whaa-Whaa-Whaaa!
The current football coach is Les Miles. Lsu has had their boast of victories with 3 national championships, 10 SEC titles and have made about 39 bowl appearances since 1935. Not bad.
Did I mention how
LOUD
it is here? Well, back in 1988 in the game against Auburn, it was so loud the Geology dept. registered the ruckus on a seismograph, that was just the LSU fans making the noise. This game became known as the
"Earthquake Game"
. Sadly, I must confess, Auburn lost that game. Speaking of Auburn, the rivalry between these two schools has become something in its own. Tensions mount when these two titans meet each season.
Want to know how to have a good time? Just ask these fans. I can truly say they know how to party! Actual festivities can begin 24 hrs. prior to gametime, and I'm not just talking about the college students! When you come to tailgate at an LSU game you had better bring your "A" game (and your appetite), your gonna need it! Bourbon is the drink of choice and Low Country food is on the menu. Louisiana food is among some of the best cuisine in the world and you get no shortage here. Choose from crab boils, crawfish etouffee, jambalya, boudin and the list goes on.....
Whichever team you plan on cheering for this weekend, or even if you are "fan spiritually challenged", and hey, that's ok too, try a little Louisiana fare; your taste buds might thank you!
Here is a recipe for crawfish etouffee. If crawfish is to difficult or impossible to get where you are, I have tried this with shrimp and it is still fabulous! Click on this
link
.